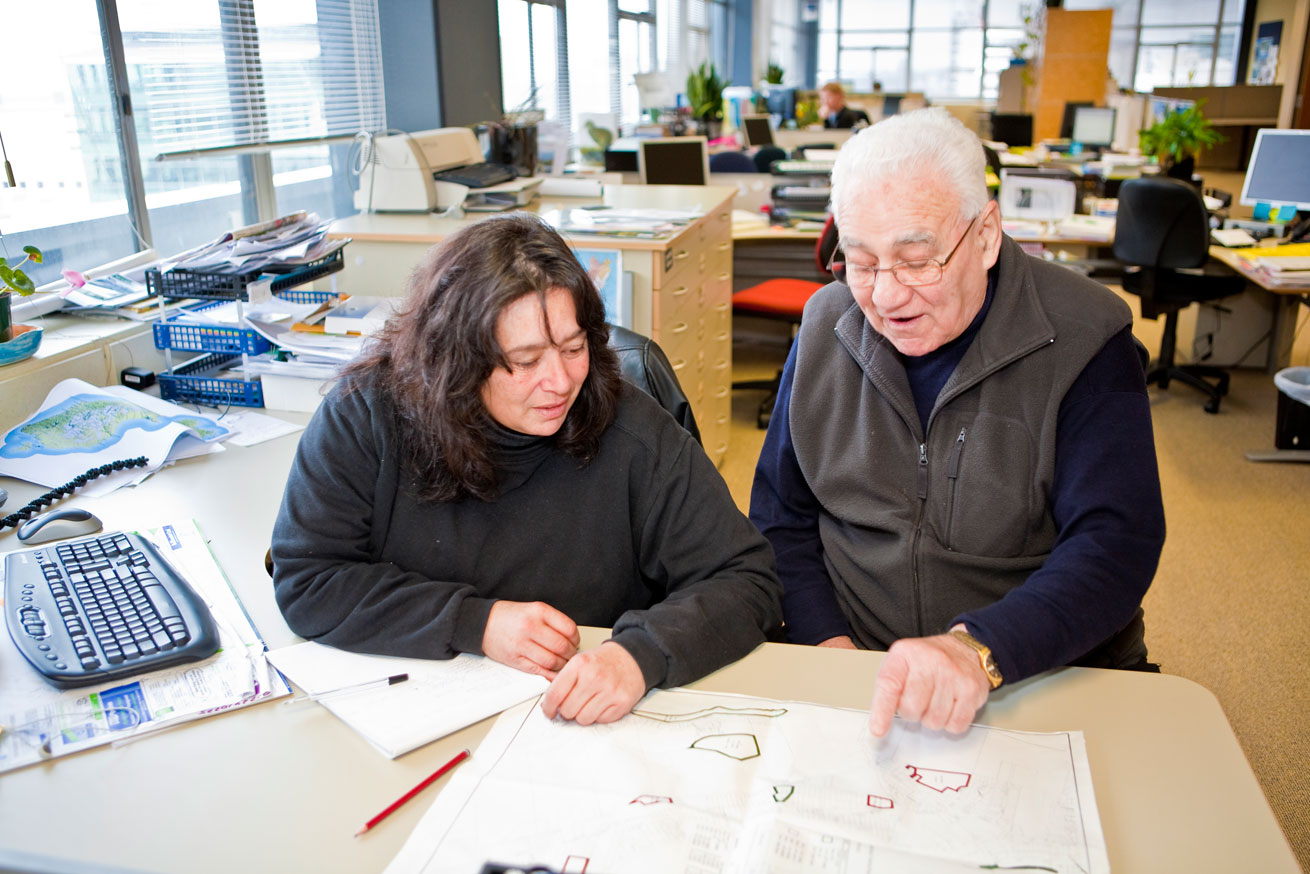 Trevor Hapi Howse was a key researcher for the Ngaitahu Maori Trust Board during the Waitangi Tribunal hearings. His tireless research and incomparable ability to unearth files about Ngāi Tahu land, whakapapa and history, and to bring them back into the hands of the iwi, led him to be affectionately known as 'The Weka'.
Born at Kaikōura on 24 September 1931, Trevor grew up in the South Bay public works camp. His mother was Mary Ann Te Keepa of Ngāti Kurī, the daughter of Kerehoma Keepa and Alice Norton from Kaikōura. In those days existence was hand to mouth; if 'the tide was low you ate. If the tide wasn't low you didn't eat.'
As a young child Trevor moved with his family to Tuahiwi to be closer to facilities for tuberculosis treatment in Christchurch. Mary Ann was often bedridden by the disease, which also afflicted several other members of her family. Trevor became responsible for looking after his four siblings. He recalled: 'I had to feed the family, do the baking, ironing, washing and go to school. Largely it was about getting the two older brothers off to work, cut their lunches. There were no fridges, we didn't have electricity until the late 1940s. We were still cooking on an open fire . . . [we] had no vacuum cleaner, we had sacks on the windows. When people today say they're poor, they wouldn't bloody know what poor is.'
Trevor attended school at Tuahiwi and then Rangiora High, where he 'was taught to shear with blades, drive horses, plough with horses and work the ground'. Following school, he worked at the Kaiapoi Freezing Works before moving north to Gisborne. He did 'the freight run from Gisborne to Te Karaka out on the plains, and Waihirere', and then 'did a season shearing in the Wairarapa'.
His first marriage was at a young age, and he had two sons, Michael and Brian, with Margaret Boyd. He also had a daughter, Belinda, from a separate relationship. Trevor eventually returned to Christchurch and began working at the Feltex carpet factory, working shifts to set up and thread the industrial looms. Here he met his second wife, Jean Patch, new to New Zealand and on a migrant work exchange from the United Kingdom. They were married in 1963 and had two children, Deborah and Stephen.
Trevor moved on to work as a foreman for the roading infrastructure firm Farrier Waimak. After he was made redundant, Trevor got a job working in the Woolworths warehouse in Mowbray Street; Jean had already been working for the Bishopdale branch of Woolworths for some years. He eventually worked his way up to become store manager of the distribution depot.
Trevor's curiosity about his family land interests led him to spend a large amount of time researching Māori land records. 'I largely started turning over rocks and kicking tyres and generally became a nuisance to Pura Parata in the Māori Land Court. I started to get a general knowledge of the South Island administration of Māori lands.'
His growing reputation as a researcher led Rakiihia Tau to approach him to assist the Ngaitahu Maori Trust Board with the Ngāi Tahu Claim. Despite concerns from the family about leaving a job with long-term security and taking a job for which he had no formal qualifications or training, Trevor resigned from his position to become one of the Trust Board's first employees.
The family Holden was soon being 'used to taxi people, gallivanting around the South Island at an unprecedented rate, constantly going somewhere, doing something'. The family home was turned into an external office. As Stephen recalls, 'There was always paperwork. Most of Mum and Dad's bedroom was filled up with wads of paper and folders and files.' Trevor's research skills became legendary, and it was not uncommon for his opposite numbers within government to call him with queries about the Crown's own papers, which they often correctly surmised 'had been relocated south'.
Trevor recalled the first Waitangi Tribunal hearing in 1987 as 'bloody frightening. "All these lawyers – I had moved in a very quiet organised way through my own process but this, it just opened up a whole new thing and I thought, holy hell, what am I doing here? [They] had about thirty lawyers and the tribunal themselves. But anyway, we sort of got used to that, and took our place rightfully."
Although the pace of the hearings was often frantic, Trevor was particularly proud that, unlike the Crown, Ngāi Tahu always submitted their evidence on time.
"We had to work to a timeframe and when you have historians like Harry Evison, Ann Parsonson and Jim McAloon, when they said jump, we just said, 'How high?' They were our historians. A lot of people had sleepless nights sorting evidence and photocopying and burning up photocopiers . . . it just had to be done, and it was done by guys who really had no experience in that sort of thing. Like a photocopier to me was new. The whole process was, as Bill Gillies said, brought [about] by ordinary people."
Following the Tribunal hearings, Trevor took on crucial roles managing the land bank process and the South Island High Country Pastoral Lease programme, and working as a member of the Ngāi Tahu Negotiation 'A-Team' who were responsible for the overall negotiation of the Ngāi Tahu Settlement.
The vast quantity of material uncovered by Trevor became the cornerstone of the Ngāi Tahu Archive, reflecting his assertion that Ngāi Tahu people should be able to access the knowledge to 'which they're entitled, because that information . . . belongs out with the people. "It should not be locked away in museums and all that sort of thing, academia and all those other [institutions] . . . It belongs to the people.'
A staunch advocate for the protection of Ngāi Tahu customary rights, Trevor was a foundation member of the Ngāi Tahu fisheries team that developed the South Island Customary Fishing Regulations with the Ministry of Fisheries and the iwi of Te Tau Ihu. He was chair of the South Island Eel Industry and of the Mahinga Kai Tikanga o Ngai Tahu Komiti that operated in the 1990s.
Throughout his retirement years, people often visited Trevor at his home in Bishopdale, seeking his guidance and support. He became actively involved in Kaupapa Taiao – the Ngāi Tahu Environment Unit, established in 1998, and through this took a leading role in establishing the Ngāi Tahu Cultural Mapping Project. In 2013 Trevor was awarded the QSM for his services to Māori and to conservation.
Trevor passed away on 12 May 2017. Looking back on the Claim, he reflected that 'it was wonderful to be part of history. I'd do it again if it was possible . . . When we look at the major planks of the outcome of that claim it was around people. The Claim was the people. It belonged to the people and still does.'