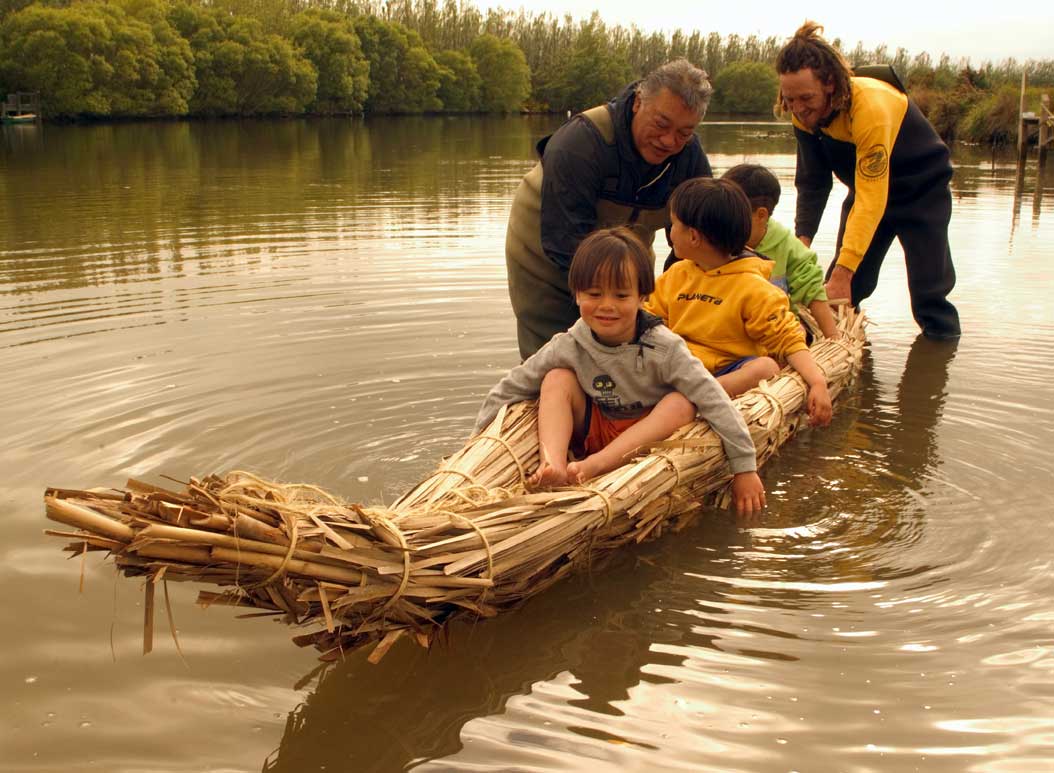 Kelvin Timothy Armstrong Davis Te Maire, known as Kelly Davis, was a passionate advocate for the protection of Ngāi Tahu customary rights, mahinga kai, and the area in and around his beloved Waihao River.
Born at Waimate on 16 March 1947, Kelly grew up beside the Centennial Memorial Hall at Morven. He was a great-grandson of Rawiri Te Maire, the influential nineteenth-century Ngāi Tahu rangatira who was an invaluable source of Ngāi Tahu histories, traditions and place names, particularly of the inland areas of Te Waipounamu. Henare Te Maire, Kelly's father, had managed to retain his family's land despite the dispossession of land held by many other Ngāi Tahu in the area. In 1939, while stationed in Papakura with the Māori Battalion, Henare met Mary MacCaskill of Thames. The two married in 1940, and had four children: Henare, Kelly, Pauline and Maku.
Much of Kelly's childhood was spent at the creek on the family's property, or at the nearby Waihao River. He often roamed the Wainono, Waihao and Waimate areas with his father and other kaumātua. In evidence presented to the Waitangi Tribunal, he spoke of his 'taua and pōua taking whitebait by the bucketful on their bikes, and feeding local families and friends with whitebait'. Kelly loved fishing, and regularly took his border collie, Ginger, to the river with him. Once there, he would set his rod and go to sleep; his dog would wake him whenever there was a fish biting at the hook. At home, Kelly and his siblings helped their father with the commercial potato field behind the family whare, and often lent a hand with picking-up in the shearing shed.
Kelly attended Morven Primary School and then Waimate High School, completing his education in 1963. A popular student and skilled sportsman, he played both cricket and rugby, representing the South Canterbury Schoolboys rugby team as a halfback. After leaving school, he joined the Royal New Zealand Navy, working variously as a stoker, diver and marksman. His marksmanship was exemplary, and his brother, Maku (Moak), remembers when Kelly 'got me to step out two hundred metres one day with a bottle, a Coke bottle, and just as I was about to put it on the fencepost he shot it out of my hand!'
Following his stint in the Navy, Kelly worked on the hydro-electric power scheme at Twizel as a grease-wagon operator. He met Lynne Shierlaw and they married on 29 March 1975. They adopted three children: Ruha, Keita and Anahera. Kelly also fostered many children throughout his life. The family moved to Te Kohurau (Kurow), where Kelly worked as a grader driver across the Waitaki Valley. They moved again when Kelly secured a job in Ōamaru, working as a fishing and bone-carving tutor at Te Mahi o Waitaki.
By the 1980s the Centennial Memorial Hall at Morven had fallen into disrepair as many whānau had moved away from the area. Kelly returned home and became one of the instigators and a driving force behind the hall's revitalisation. A committee was established and set to work clearing the land of gorse and scrub, and cleaning up the old building which reopened as Waihao Marae in 1986. Kelly and Charles Mitchell (a freshwater scientist) conducted a survey of eels in South Island lakes and rivers, taking Lynne and the children with them as they camped out at different research spots. These projects led to subsequent leadership roles for Kelly and to his involvement in the Ngāi Tahu Claim as one of the key informants to give evidence on the history of mahinga kai in South Canterbury. He was also the original Waihao representative on Te Rūnanganui o Tahu, established by the Ngaitahu Maori Trust Board in 1990.
As a champion of Ngāi Tahu customary fishing rights, and of the restoration of mahinga kai in the Waitaki and Waihao areas, in 2004 Kelly spearheaded an initiative to establish fisheries regulations that would prohibit commercial eeling from the Waihao River, the Ahuriri arm of Lake Benmore and the Rangitata Lagoon. He was appointed as one of the original tribal representatives on the Lower Waitaki Working Party, set up to help mitigate issues related to Waitaki water use, and sat on the Mahinga Kai Tikanga o Ngāi Tahu Committee that operated throughout the 1990s. Kelly also appeared at many environmental hearings advocating for the restoration of mahinga kai in the Waitaki catchment. Speaking to New Zealand Geographic in 2001, he described the Waitaki as 'a key fishery for Ngāti Māmoe, Waitaha and more recently Ngāi Tahu … I walked many of these makatea [trails] with my father when I was young, and they're dotted with nohoanga [camp sites]. The hunting parties collected and processed food at these sites or stayed overnight on the way to tauranga waka [food-gathering places].'
Kelly was also a recognised expert on the traditional practice of constructing mōkihi – rafts made from raupō that were used to transport people, food and resources from the Upper Waitaki to Ngāi Tahu coastal settlements. Kelly learned the traditional craft from Tim Te Maiharoa, and together they were instrumental in the resurgence of the practice of making mōkihi, often attending wānanga where they passed on knowledge to anyone keen to learn.
Kelly was the Te Rūnanga o Waihao representative on Te Rūnanga o Ngāi Tahu from 2003 until his death in 2007. Between 1998 and 2002, he was also employed by Te Rūnanga o Ngāi Tahu as a kaiārahi (guide) for the Ngāi Tahu Customary Fisheries Unit. Following the unit's disestablishment in 2002, he continued to support the kaupapa of mahinga kai. With his knowledge of customary fishing, natural resources and local traditions, people often looked to him for advice and support on everything from traditional eel catching to the importance of conserving wetlands. He ultimately became an environmental consultant and adviser to the University of Otago's Zoology Department.
Kelly passed away at his home on 15 March 2007, just one day before his sixtieth birthday. He is buried in the small urupā at Waihao Marae, between the Waihao and Waitaki rivers that he treasured so dearly.