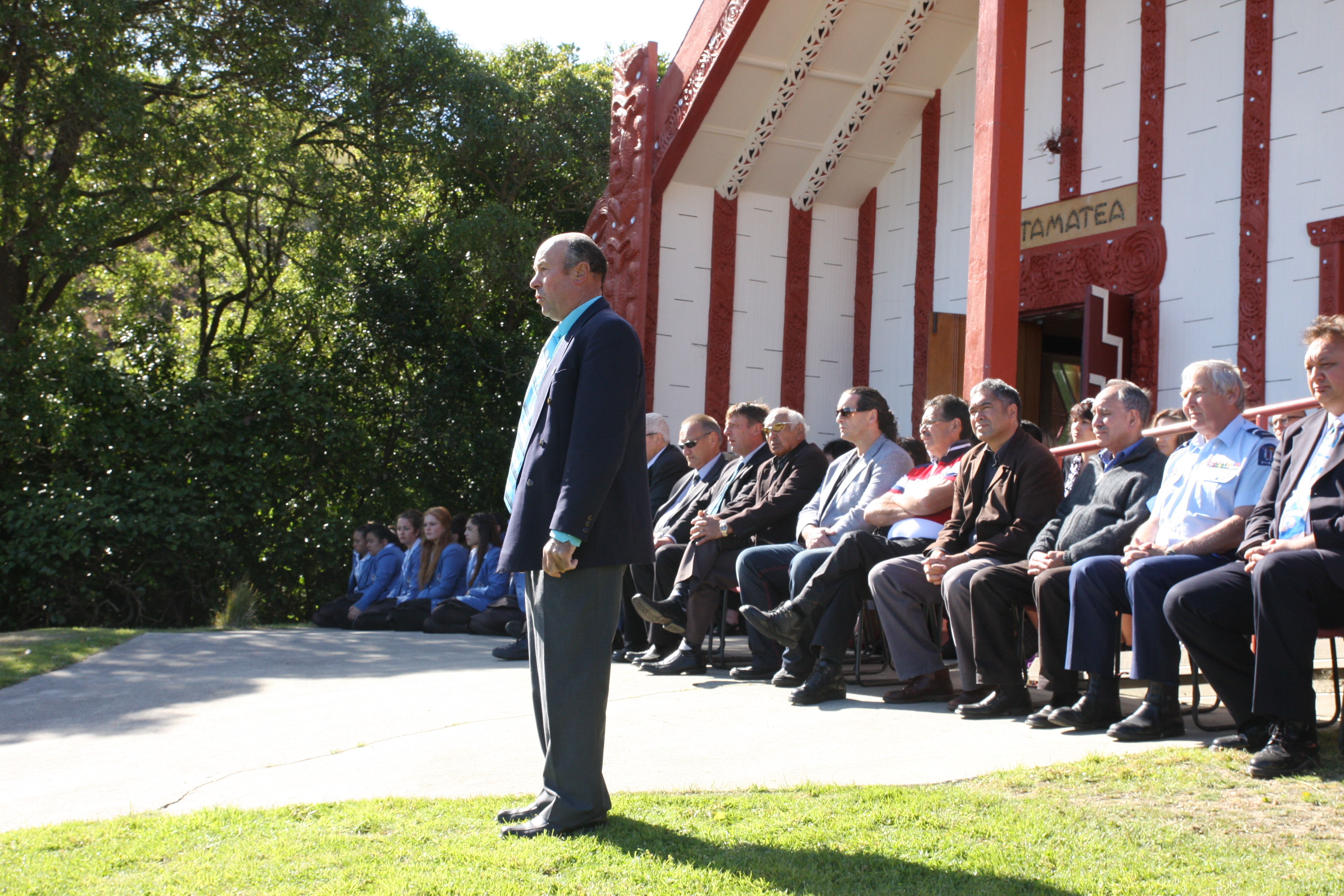 Spiritually, culturally and practically Otākou kaumātua Edward Ellison is a man of the land, kaitiaki of ancestral land passed down from the prominent southern Māori chiefs Matenga Taiaroa and Karetai.
Renowned for his diplomacy and a cool head, this unassuming Ngāi Tahu tribal leader played a key role as a treaty negotiator in Ngāi Tahu's successful claim against the Crown for breaches of the Treaty of Waitangi. Behind the scenes, few people would have a broader understanding of Ngāi Tahu's connection to the land, environment and resources of Te Waipounamu from a local, regional and national perspective.
The long list of organisations on which he has represented Ngāi Tahu gives some indication of his commitment to his iwi over the last four decades and his astonishing capacity for hard work. Somehow he also finds the time to virtually single-handedly run a 240ha sheep and beef farm overlooking Otago Harbour. His primary focus has always been to look after the land passed down from his great-grandmother Nāni Weller, grand-daughter of Matenga Taiaroa.
Nani eloped and married Edward's great-grandfather Raniera Ellison (Te Ati Awa) after he made his fortune virtually overnight with a fabulous gold strike at Māori Point on the Shotover River. Raniera's success on the goldfields allowed him to operate three farms at Otākou, Karitāne and Waikanae, setting up homes on all three properties and giving his descendants long-term security as landowners. As Edward explains: "It was one thing to own Māori land. It was another thing to have the capital to farm it."
His uncle Rani Ellison was able to use the Otākou farm as collateral to set up Otākou Fisheries, a very successful post-war fisheries business that had 48 fishing vessels working between Timaru and Fiordland and exported to Australia and the United States.
Edward's father George, a fisherman, took over the family farm when he was about 10 years old and he and his brothers did a lot of the farm work, mustering, shearing and raising calves. "The farm is like a sanctuary to me," he says, a retreat from the front lines of treaty negotiations and resource management work. Juggling farm work around a constant schedule of meetings, he finds working with stock physically rewarding, giving him time to process his thoughts and keep his feet firmly on the ground.
Edward attended primary school at Ōtākou, which had a school roll of 49 pupils when he started there and 13 when he left to go to high school in Dunedin. Determined to work outdoors, he contacted Federated Farmers and was accepted into its three-year Farm Cadet Scheme, which included a full year of study at the Telford Farm Training Institute in South Otago. When he returned home to Otākou, he stepped straight into farming the home farm and a block his father bought in his name.
Over the years, sheep and beef farming has given Edward the freedom and flexibility to do other things. "I haven't pushed it," he says. "There is no way I could have done all these other things if it wasn't for the land. I've run it in a way that allows me to come and go."
During the 1970s a proposal by Rio Tinto to build an aluminium smelter at Aramoana, within sight of the Otākou marae, fired up his first major environmental battle right on his front doorstep. "That really shocked me to think that anyone would want to build a smelter there," he says. "I thought it would ruin the place so I was heavily involved with a team from the marae to stop that proceeding."
During the 1980s, he was drawn into Ngāi Tahu's efforts to research its Treaty of Waitangi claim against the Crown before the Waitangi Tribunal visited Otakou to hear submissions in 1987. "It looked like it would be a very special opportunity so we started attending hui around the motu about the claim to get a sense of what was happening elsewhere around the island," he says. "The big change for me was identifying as Ngāi Tahu," he recalls. "Before then I identified as Ōtākou tūturu."
During the 1990s Edward was closely involved with the establishment of Te Runanga o Ngāi Tahu Ltd, a forerunner of the current Te Rūnanga o Ngāi Tahu., and was elected as its first deputy Kaiwhakahaere. During this period, some of the board's functions were transferred to TRONT Ltd. and Edward travelled regularly to hui all over Te Waipounamu and represented the iwi in Parliament, appearing before select committees and following legislation through the House of Representatives. "People were very conservative, very cautious," he says. "Progress was very slow. It was a bit like watching paint dry."
During the mid-1990s after initial treaty negotiations with the Crown had broken down, the tribe came up with the plan to use three teams of negotiators to settle the claim. Edward worked at both ends as a negotiator on both the A and C teams. "It was a great system and it worked," he reflects. "The big issues floated to the top and were dealt with by the A team, the hard work happened down in the B and C teams.
The negotiators knew their work was important and they knew they were making history. "It was a very satisfying period and I was very fortunate to be in the right place at the right time," he says. "I had to pinch myself. I couldn't believe it was our generation that had the privilege of doing that work, knowing that generations had gone before who were unable to effect much resolution. No-one knew who Ngāi Tahu were before the tribunal hearings. If they didn't know who we were before, we were a household name afterwards and that has never stopped."
Since the early 1990s Edward has given Ngāi Tahu a voice on conservation issues with his appointment firstly to the Otago Conservation Board and then on the New Zealand Conservation Authority between 1996 and 2004. He also served on the Queen Elizabeth II National Trust from 2006 to 2011 and has worked closely with southern regional authorities since 1991 as a Regional Management Act advisor and more recently as a commissioner.
At a local level he led a Kāi Tahu ki Otago project to publish a natural resource management plan for this region.In May 2004 Edward and a Ngāi Tahu lawyer represented Ngāi Tahu at a United Nations Permanent Forum on Indigenous Issues, where they lodged a protest against the New Zealand Government's seabed and foreshore legislation. He says it was a shock for other countries to learn of New Zealand's position on seabed legislation, because they looked up to Māori as international leaders in cultural matters.
In the New Year's honours list in 2015 Edward was awarded the New Zealand Order of Merit (ONZM) for services to Māori and conservation. Looking back at Ngāi Tahu's achievements in the 20 years since settlement, he is proud of the iwi's achievements and his part in it. "We have made some mistakes on the way, but we're learning as we go and fortunately the mistakes were outweighed by good decisions made."